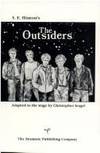 The Outsiders (A Full Lenth Play in Two Acts) Paperback - 1990
by Hinton, S. E.
---
About this book
"The Outsiders" by S.E. Hinton is a poignant coming-of-age novel set in the 1960s. It revolves around the lives of two rival gangs, the working-class Greasers and the affluent Socs. The story is narrated by Ponyboy Curtis, a Greaser who grapples with issues of identity and belonging. Through Ponyboy's eyes, the novel delves into themes of social class, friendship, loyalty, and the devastating consequences of violence. When a tragic event occurs, Ponyboy and his fellow Greasers are forced to confront the harsh realities of their existence, challenging their perceptions of the world and their place in it. As the story unfolds, Hinton highlights the power of compassion, understanding, and the resilience of the human spirit in the face of adversity.
Books I Loved Best Yearly (BILBY) Awards for Secondary (1991)
First edition identification
The Viking Press published a First Edition, First Printing hardcover in 1967, New York.
Gollancz published a First UK Edition, First Printing hardcover in 1970, London.
Details
Title

The Outsiders (A Full Lenth Play in Two Acts)

Author

Hinton, S. E.

Binding

Paperback

Publisher

Dramatic Pub., U.S.A.

Date

April 1990

ISBN

9780871292773